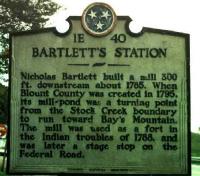 The Knox County, Tenn. "plantation."
Nicholas Bartlett's will, dated August 3, 1812, was probated
in Knox County, Tennessee in April 1814 and was recorded in
Estate Book No. 2, Page 97, Knox County. Below is a transcript
of the will as provided by the clerk of the county court for Knox County
on November 16, 1953. Nicholas died on January 14, 1814.
The will does not mention three of his children: Leah, Martha, and Rachel.
---
I Nicholas Bartlet of the County of Knox and State of Tennessee. Do this third day of the eighth month One thousand Eight hundred and twelve ordain this my last Will and Testament in the manner following, that is to say, I leave my plantation whereon I now live to my Wife, with all the movable property thereto belonging during her natural life, at her decease the Land to fall to my son, Jesse Bartlet, and the movable property to be disposed of at his discretion —
Also all my notes, with my Book accounts to be collected and my Daughter Rhoda Rogers to have Fifty Dollars out of it. Also my daughter Sarah Pierce to have one hundred and fifty the ballance to be equally divided between my children namely Joseph, Lovey Lydda, Esther Sarah & Mary.
Lastly I appoint my Wife Mary Bartlet & William Durham Executors to this my last Will and Testament as Witness my hand and seal the day and date above written.
Nicholas Bartlet
ATTEST
Charles Wilkins
Thomas Durham