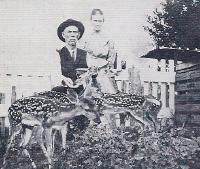 John and Mary Haynie
This biographical sketch of John Burrow Haynie
appeared in A History of Texas and Texans (1914).*
Bracketed material has been added.







---
JOHN BURROW HAYNIE
One of the men whose talent for finance and administrative business has been developed to unusual success is John Burrow Haynie of Rice [Texas], who has been a factor in the business of that place since 1875. After locating there he soon became interested in merchandising and other features of its business affairs.

Mr. Haynie moved to Rice from a farm at Eureka in Navarro county, where he had settled about the time he reached manhood. He was a child of seven years when he accompanied his father to Texas in 1847 and settled at Tehuacana Hills. At that time Navarro county was on the frontier, and Indians still roamed over its hills and prairies. In that vicinity, as one of the pioneers, his father, George W. Haynie, did some farming and was a stock raiser until he died about 1856, past fifty years of age. George W. Haynie was born in Tipton county, Tennessee, had about the educational advantages of the average pioneer, and brought his family to Texas in wagons. With the rest of his equipment he brought a few negroes, and during his brief stay in this state was a man of industry. George W. Haynie married Sidney Lynn, who died at Eureka when past sixty years of age. Their children were: Lewis B., who was a merchant and farmer and land man and died at Rice leaving a family; William D., who died at Rice, an ex-Confederate soldier, a farmer and stock man; Amanda, who married Mr. Robert Tyus and died at Pine Bluff, Arkansas; John B.; and Mary Jane, widow of George May of Kerens.

John B. Haynie came to man's estate with a fair education and with an experience as a soldier in the great war between states. In March, 1862, he had entered the Confederate army in Captain Melton's Company of Bates' regiment, and was a guard along the Gulf coast. Most of the time he and his men were stationed at Velasco, and was frequently shelled by the enemy, and he saw more or less of the turmoil of war until its end. His company disbanded at Velasco, but at the time Mr. Haynie was at home on detailed service. After the war he took up civil life as a modest farmer and stock man. His prosperity has been won from a starting point at zero, and hard work was the factor that counted most in his early life. He bought his first land during the war at Eureka with Confederate money, and continued to prosper in that vicinity until his removal to Rice. About Rice he acquired a large amount of land, and a great deal of this has been brought under cultivation with crops of both grain and cotton. At the present time [1914] his ownership extends to several valuable farms in the Rice community. Altogether his efforts have brought under cultivation about nine hundred acres, and on his farms and in Rice he has erected twenty houses. His agricultural interests give employment to about twenty persons.

Farming has not been his sole vocation. Mr. Haynie engaged in merchandising after coming to Rice, built a cotton gin and operated it for several years, and finally disposed of these interests. About eight years ago he engaged in banking, and is now president of the First State Bank and was one of its active managers for some time. He is also interested in the lumber business.

Mr. Haynie has not taken an active part in politics, is a Democrat, and while originally did not favor Wilson is very much pleased with the president's success. A member of no fraternity, he has his religious connections with the Cumberland Presbyterian church. On November 14, 1861, Mr. Haynie married Miss Mary A. Jones, a daughter of J. C. Jones, a northern man who came to Texas from Arkansas, was a farmer and extensive stock man, and died at Eureka, where he had settled during the decade of the forties. Mrs. Haynie was born in Arkansas in August, 1843, and died February 15, 1914. Their children are: Mary Elizabeth, who married R. S. Clark of Rice and has the following children: Balfour; Mary B., wife of A. Y. Brown of Rice; Manford; Ruth, who married Mr. Cash; Cora; and John. The second child of Mr. Haynie is Jodie, wife of Dr. Hugh Sloan of Rice. The youngest child is Viola, wife of John T. Fortson of Rice.
---

*Frank W. Johnson, A History of Texas and Texans, ed. by Eugene C. Barker and Ernest William Winkler (Chicago & New York: The American Historical Society, 1914), vol. IV, p. 1727.