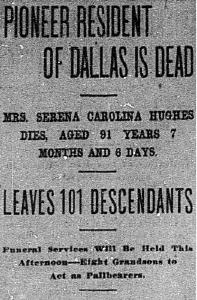 Serena Caroline Hughes, and her husband,
Obadiah W. Knight, were pioneer residents
of Dallas County, Texas. She died in 1914
at age 91. Her position in the community
was evidenced by the coverage of her
death in the local papers. This item was
published in The Dallas Morning News.*
---

PIONEER RESIDENT
OF DALLAS IS DEAD
_____

MRS. SERENA CAROLINA HUGHES
DIES, AGED 91 YEARS 7
MONTHS AND 6 DAYS.
_____

LEAVES 101 DESCENDANTS
_____

Funeral Services Will Be Held This
Afternoon—Eight Grandsons to
Act As Pallbearers.
_____

Mrs. Serena Caroline Knight, ages 91 years 7 months and 6 days, probably the oldest resident of the county, died at 4 o'clock yesterday afternoon at the home of her son, Arch J. Knight, 4725 Swiss avenue. The funeral will take place this afternoon, leaving the residence at 2 o'clock. The service will be held at Oak Lawn Methodist Church at 2:30 o'clock. It will be conducted by Rev. H. A. Bourland, assisted by Rev. J. L. Morris, pastor of Grace Methodist Church; Rev. New Harris of Trinity Methodist Church and Rev. Claud M. Simpson of Oak Lawn Methodist Church. Burial will be in the family burying ground at Cochran's Chapel, north of the city.
The following grandsons of Mrs. Knight will act as pallbearers: Joe Y. Field, R. E. L. Knight Jr., Maurice Freeman, John J. Knight, W. H. Lemmon, Robert E. Knight, Jeff J. Mallard of Rusk and W. Hughes Knight.
Serena Caroline Hughes was born in Stokes County, North Carolina, Sept. 30, 1822. When she was 4 years old her parents moved to Columbia, Maury County, Tennessee, where she was reared and educated and where she married Obediah [sic] W. Knight. In 1846 she and her husband came to Texas, settling in Dallas County, four miles north of the site of the present city of Dallas.
Mrs. Knight was 46 years old when Mr. Knight died, April 1, 1868. She had lived since that time forty-six years, rearing the children then in their minority. She raised five step-children, twelve of her own children, gave a home to three orphan girls, and raised ten grandchildren. For sixty-eight years her home was in or near this city.
Leaves Many Descendants.
The family left Tennessee early in September, 1846, and it was Nov. 30 when they made their last camp at Cedar Springs. The party of immigrants consisted of Mr. and Mrs. Knight, her sisters, Mrs. Wm. M. Cochran and her husband, Mrs. Isaac B. Webb and her husband, Mrs. T. C. Williams and her husband and several children, and Mr. and Mrs. J. H. Walker and a number of children, and some fifty slaves. William M. Cochran was the first County Clerk of Dallas County, Isaac B. Webb was the first postmaster in the county, and T. C. Williams was the first Tax Assessor of the county.
The five step-children, each living to a ripe old age, have passed away. Of her own children, six survive her. She also heaves fifty-nine grandchildren and thirty-six great-grandchildren, making a total of 101 living descendants. The step-children were: Mary, who married Judge Nat M. Burford, a distinguished lawyer of the district of which Dallas County formed a part and the first Judge of the district; Elizabeth, wife of Capt. J. J. Mallard, for many years a Dallas merchant; Dr. John W. Knight, a graduate of Tulane University and a surgeon in the Confederate Army, who died shortly after the close of the war; William, a Confederate soldier, who died near Hope, Ark., while in service, and whose body was brought home in an ox wagon and buried in the family cemetery, and G. A. Knight, a well-known Dallas business man, who recently died.
To Mrs. Knight twelve children were born, as follows: Henry, who died in infancy; Laura, wife of Dr. A. M. Cochran, who died in 1877; Monroe D., who was killed by a horse when he was a child; Mattie M., wife of Capt. W. H. Lemmon, who died several years ago; Kate, wife of John Field; William H., now residing in Hillsboro; Amanda, wife of Major B. B. Cannon of Weatherford; Epps G. Knight of Dallas; Josie and Laura, who died in childhood; Robert E. Lee and Arch J. Knight of this city. The orphans raised by her were: Georgia Evans, who married J. J. Mallard Jr.; Amanda Crews, who married Moses Dennis, and Eliza Morrison, who married J. H. Brewster.
Strict in Her Views.
Mrs. Knight had three brothers—Rev. W. H. (Uncle Buck) Hughes, who came to Dallas in 1842; Rev. John F. Hughes, for fifty-five years a preacher and presiding elder in the State of Tennessee, and Judge Arch M. Hughes, for many years on the Federal bench in Tennessee.
Mrs. Knight embraced the Christian religion when quite young and continued a member of the Methodist Church for more than eight years. She was so strict in her views that it is said of her that she never in the course of her extraordinarily long life attended a circus, a theater or even a dance.
Mrs. Knight's husband gave ten acres of land and $300 in gold to found the old Cedar Springs Academy, which was the first institution of learning established in Dallas County, and which was attended by many students who were afterward the leading citizens and business and professional men of the State. He also introduced the first reaper, the first thrashing machine and the first closed carriage that were used in the county.
Mrs. Knight had thirteen brothers and sisters. Rev. W. H. Hughes, the only one of them surviving her, was with her when she passed away.
---
*The Dallas Morning News, Dallas, Tex., 7 Apr 1914, p. 16.